There are all sorts of good things in the garden at the moment.  Looking among the foliage I found this pumpkin starting up.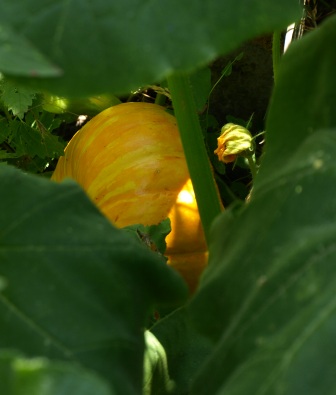 While in among another bunch of leaves I found this cucumber that will be a nice addition to salads next week.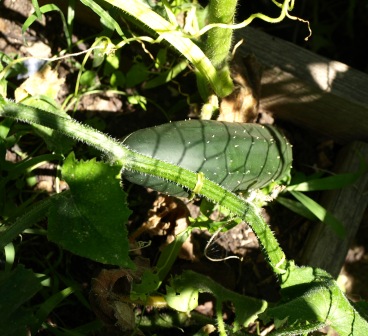 The fruit is doing well again this year (although we won't talk about the disaster that was the apricot crop) and the pear tree will need to be supported soon for this weight of good things.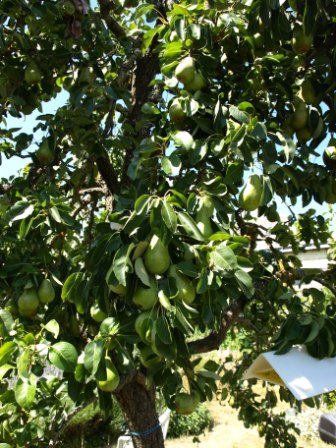 But this fig has my name on it for this weekend - it looks wonderful!
 
Peach leaf curl can be a real problem, but an old "astuce" over here is to hang egg shells in your peach and nectarine trees to reduce its worst effects.  There has been so little rain this year, I can't really comment, but anything is worth a try as chemical remedies are withdrawn and not really advisable if you have roaming chickens.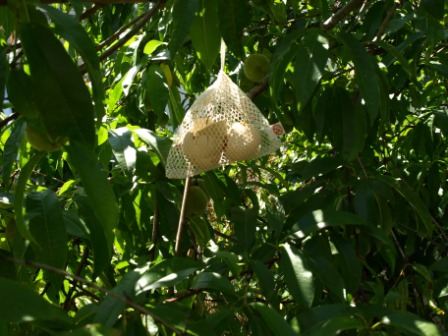 And finally - compare these two pots with chilli plants in.  All plants come from the same batch bought for me last week by John when Pepper the chicken went on a destructive rampage in the well protected pepper and chilli bed (now even better protected).  The ones on the left were potted on to the big pot on Thursday last week, the ones on the right were potted on today and are the colour the whole batch were on purchase.  It goes to show that some good quality compost can turn round a weedy looking performer!