I'll admit I am slacking a bit and John has threatened not to take me out to lunch until I write up the restaurants we have been to recently.
First off on September 12th we had to go into Angers for various official bits and pieces - never the nicest visits.  To make up for that, we generally have lunch out and had hoped to go to our chum Dominique's new gaff Bar O'Lices or similar in the Rue des Lices, but Dominique doesn't do Mondays.  Instead we went to the Cafe des Orfeves which is joined to the Musee des Beaux Arts.  As well as a menu of salads and staples, they do a menu of the day at 11,50 for a starter and main or main and desert, or 15,50 for all three.  We went with the menu of the day, and rather unusally for us, ignored the starter (there is only so much cucumber salad you can eat), and had the main and pudding.
The main course was a slow braised, slightly oriental pork stew with mash and a salad garnish - very good indeed with totally melting pork.  The pudding was tarte tatin with special vanilla icecream, and in this instance, special was not an underestimate - it was fab.  We washed that down with a bottle of Perrier and had a coffee after (extra), which did the required smack round the head to get you fit to drive after a good meal.
This is cheaper than the big brasseries in the Place de Ralliement, better value and a very nice setting.  If we have to go to Angers again on a Monday, we will go back!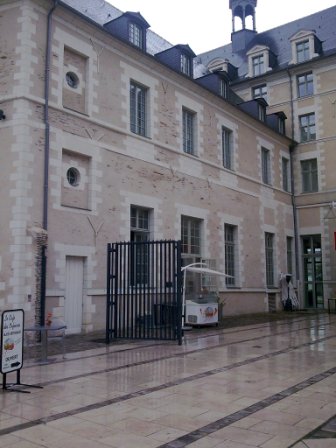 The second meal out was because we had to get the windscreen replaced and Saumur was the place to do it.  We went there on Tuesday 20th September, just as the weather was warming up for the Indian Summer.  As ever we ended up in the Place St Pierre, and chose the Restaurant Les Forges de St Pierre.  Prices are a bit higher in Saumur than round us, so the dish of the day (choice of three) was 8,90.  John had moules frites and I had steak frites (for those who obsess about these things, the exact steak cut was hampe or skirt).  The frites were very good, the picher of rose was very generous, and my steak was very flavoursome although to English tastes, it could have hung for a further week.  The moules were also good, albeit a tad salty (perhaps someone used salted butter in the mix?), but having said that, not a scrap was left on either plate, other than shells!
The winning point about this restaurant is that they understand the concept of one pudding but two spoons - we had the profiteroles and we couldn't have eaten a whole portion each.  They were rich and lovely.  The coffee didn't quite have enough punch to keep us moving through the afternoon.  The setting was lovely and the food was fine, and the wine was good, but we still haven't cracked eating out in Saumur I think.
Now can I be taken out to lunch again, please John?