Last week I picked and stored the butternut squashes, this week I picked the best red pepper I have ever grown.  Plus I also pulled two more of the large white radishes - one of them was a bit damaged, but we had a good sized salad with the two (Donald the cat insisted on being part of the picture, posing as you can see).  Now our thoughts are more about next year's crops, and I should be sowing the first of those, broad beans, in the next couple of weeks.  My darling husband acquired a trailer-load of leaf mould for me - lovely stuff that is dark and full of organic matter and will help our clay soil a lot.  It is now stored under a tarpaulin in a number of giant cat food sacks until needed.
During the week, the weather took a serious turn, with the arrival of Storm Aurore.  She was forecast to track further north than us, although the clouds were a clear sign that she meant trouble.  She brought an hour of truly nasty winds which brought down trees and powerlines.  In the centre of the village, we had a couple of power cuts, but otherwise no major issues.  Isolated properties to the east of us weren't so lucky with more major electric lines down and some houses without power for over 24 hours. 
So here is a tip if you are leaving your house for a few days, leaving the power on, and have food in the freezer, and there is a power outage.  Have a half eaten tub of ice cream in the freezer.  If when you get back, you find a slick of ice cream across the bottom of the tub, your freezer has defrosted, if there is still a clear half and a half with ice cream in it, enjoy the rest knowing it hasn't melted and refrozen!!
So Aurore has now passed and the sun is back.  And we have a new toy to help with those annoying branches where it is difficult to get a bow saw in and a proper chainsaw is over the top.   This little gem came with two batteries, two bars and four chains (on the basis that you work 2 chains to a bar and should replace the bar more often that we do as the bar gets clogged and damaged and warped with use).  We spent a happy quarter of an hour raising the crown on an annoying cypress style tree, and half an hour tidying up afterwards (always the way).
Last week I wrote about my embarrassing orchid habit - this is the final one I hadn't managed to get a good picture of, while it still has a flower.  I know it will fall off soon.  The small orchid that was covered in buds now has one flower, and I'm likely to show it off next week.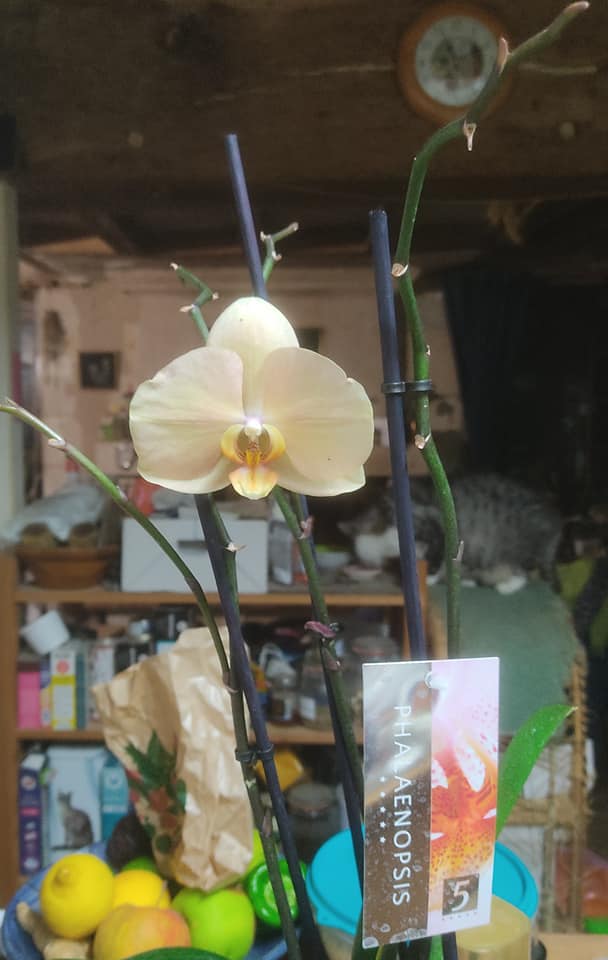 And yes, that is a cat eating in the background!