Last weekend we went up to St Malo as a bit of a city break.  It is a wonderful city, rebuilt after being pretty well destroyed in 1944, when the Germans settled in and tried to hold out against the Allies.  The rebuilding work was done amazingly well and the IntraMuros is wonderful.  Here is St Malo.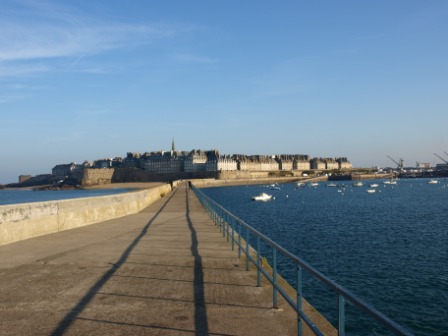 On the Friday night, we went out in search of dinner and a Beaujolais Nouveau.  We tried this place first, but they had no Beaujolais and no oysters and no food that didn't have a trace of mussel - which I can't eat.  So after being stung for a single beer, we left.  They had only just opened after a few days closed, but not having half the menu was not a good idea!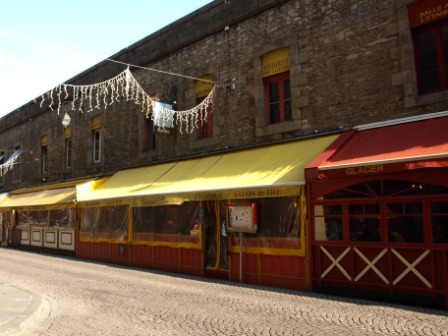 Instead we went two doors down (you don't have to go far in St Malo to find a bar or restaurant), who did have the required Beaujolais (very fruity, very silly, just as you would expect).  John had moules mariniere and I had oysters, then John had the fish of the day which had a mussel sauce, while I had brandade morue and salad - very good indeed.  Our afters were a plate of well cared for cheeses for me and apple crumble for John - all very good, 20 euros a head plus wine and infusions.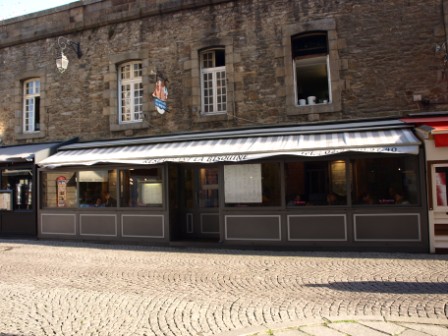 It being November and because we didn't really fancy sandwiches and there aren't many real food shops in St Malo (though biscuits and sweets are well catered for), we ate out for Saturday lunch.  John needed more moules, so we went to the Lion D'Or for moules frites for John and a massive goat's cheese and lardons salad for me, washed down with Chardonnay.  Again very good and at 15 euros or so each for the food, quite affordable.  Our lunch neighbours on one side were charming, but I wanted to smack the girl on the other side of me as she picked at her food until it was cold and made sure she finished the rice but the scallop casserole was another matter!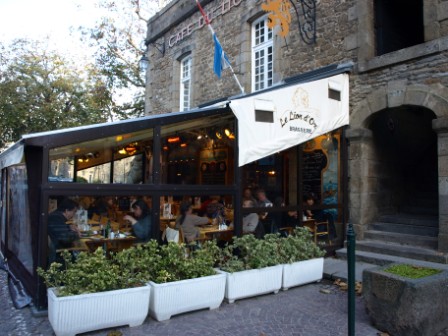 On Saturday night, I needed Mont St Michel pre-sale lamb from the salt marshes, so in order to ensure we got the real MacCoy, we went to the Hotel de France et Chateaubriand (named after the poet, who also gave his name to the steak).  Our 22 euro menu included fish soup with all the trimmings for John and a seafood platter for me, then our pre-sale lamb with beans and carrots, and then a dessert of baked pineapple, washed down with half a bottle of Muscadet and a bottle of Cotes de Rhone.  The restaurant is very elegant and art deco and the service is impeccable and the chef is a genius.  Another wonderful meal.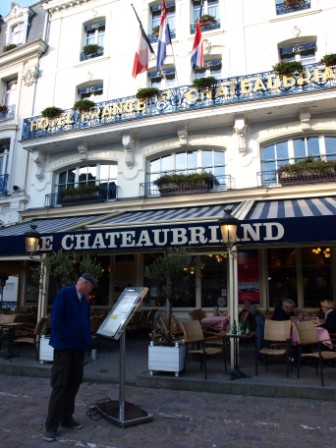 We went home on Sunday, but as we had done so much walking on the Friday and Saturday, we didn't put on a pound despite our greedy excesses - the wonders of French cooking and sea air!