In fact, as I really need to cover two weeks of excitement and rural stuff, this could be a bit longer than normal!
The week Huguette died and the week after were mostly lovely autumn weather.  This meant I could do a few useful autumn things like make jam.  My Mum's tree was about the only peach tree with much fruit on it, and as they are very dark fruited peaches (almost black if you get a good one), the resulting jam was a rich, dark pink colour.  We got 12 and two half pots of jam, both half pots have already been eaten, plus five jars of quince jelly from the tree in the garden (no photos of the jelly though).
Today has been spent gathering in excess of 150 kilos of juicing apples for our appointment at the fruit press tomorrow.  We could have gathered more, but a couple of years ago we discovered the joys of single variety apple juice - pretentious, nous?  Anyway, we wanted to do that again, as the juice from these apples (probably Canada variety or similar) is not as sweet as a mixed variety juice can be.  You know what next week's blog is going to be about therefore, but here is a tree before it was picked, and here is our helper.
Huguette wasn't the only one to leave us in September, with a close neighbour also bowing out.  His house is now shut up while the family wait for the French equivalent of probate to be sorted out, but the geraniums he tended outside his house are still going strong and a lovely memory of him.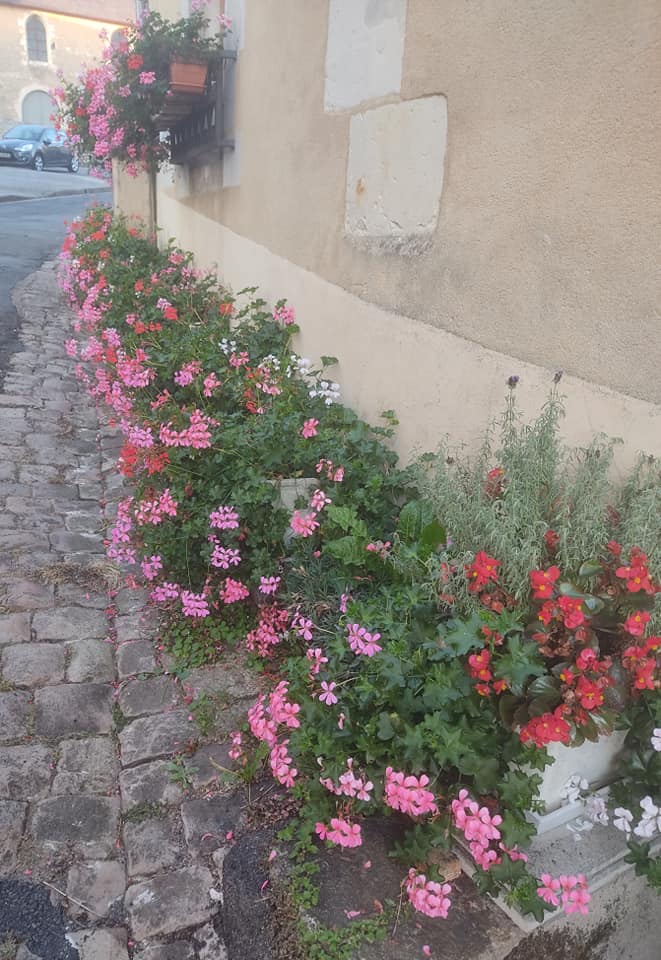 September is a good month for views if the weather is suitable.  We had a run of magnificent sunsets, so after a bit of fiddling, I managed to get my camera phone to get this image, which is pretty dramatic I think.  Morning views of the church are much easier, although the angles are wrong to avoid the neighbour's laundry.  Why not wait for a day with no laundry?  They don't exist, even when it is raining.  I think they don't have wardrobes, so the clothes line is a place to store clothes they aren't wearing.
The badgers at the Wildflower Meadow are getting prepared for winter.  They have cleaned out tunnels and done a bit more excavating - probably without planning permission.  As the ground where they live is pretty chalky, it isn't subtle when they decide that set maintenance is what needs to be done.  If you look closely at the second photo, you can see paw prints in the excavations too.  
As the fruit comes to an end, nuts start to catch our attention.  At the Garden, we have three big trees, then there are another four in the Orchard, and a couple more on the edge of the Wildflower Meadow.  We suspect that if we stopped doing any maintenance, the whole area would be taken over by elderberry, walnut, bramble and old man's beard.  Anyway, the area below the good two trees in the Garden has been close mown to make it easier to collect them, while it is possible to see them starting to emerge from their cases on the low branches.  I picked up 5 nice clean nuts this afternoon, but that is just the start!
The weather has now turned, after the amazing sunshine and clear skies.  Soon I will be ripping up the sweetcorn and the faded tomato plants, trying to ripen off the small butternut squashes and thinking about sowing broad beans for next year.  It feels like we haven't really had a summer this year, and that autumn has been with us for a couple of months now, with cyclamen in the lawn, and falling leaves.  The rewards of autumn are of course sweet chestnuts, fresh walnuts, mushrooms and preparing for the year end festivities.  I expect to be making Christmas puddings next weekend - watch this space!