After three very good weeks with the trail camera, I sadly have to announce a complete failure this week.  We chose a location that was away from the road and surrounded by dense undergrowth, near a water source and with tracks in many directions, seemingly used by animals large and small.  When we collected the camera yesterday, there were 6 files on it, with the least awful photo below.  The others included mainly my bottom retreating from the camera or me getting up close to turn it off.  Clearly that area is not in use at the moment, possibly as the hunt were through last weekend, possibly as it isn't an interesting area at this time of year.  I'll try again there in the spring or summer, but for now the camera has moved on.
So what else has been going on this week?  The gastronomy fest continues, with more truffle influenced meals.  We are using up the last bit of the truffle tonight and that is it until early 2023.  We also had lunch out at our favourite restaurant, and honestly it was hard to move after our 12,55 Euros a head blow out.  I've not had that good a bavette steak for years, while the chocolate mousse was positively intoxicating in its chocolatiness.  
In order to recover from all the rich food, and to keep warm, we have had to spend time in the One Acre Wood, taking down and chopping up a long dead chestnut tree.  Yesterday we did the felling and sectioning.  There was freezing fog and everywhere was covered in white tendrils as the fog froze onto spider web.  When all was still you could actually hear the ice crystals falling off.  Today we went back with the trailer and a splitting axe (or merlin) and tidied up the largesse, splitting much of it to make it usable.  Reading back over past memories, ten years ago I was able to split a stère of wood almost single handed, but this year I managed about 8 logs.  Mind you, that is an improvement on last year, when I could do almost nothing with a dodgy elbow.
We support a cat charity locally called Cat's Garfield - they catch, sterilise and rehome, as far as possible, feral and stray cats in the area.  This weekend they were trying to educate people and raise a bit of cash through an exhibition of photos taken by one of their members, a half-English lady who has just started up as a photographer in the area.  The pictures were lovely and it is also nice to hear the good news stories of adoptions.  What impressed us most was the venue - a converted chapel.  The downstairs was pleasant with nice features, the upstairs was breath-taking.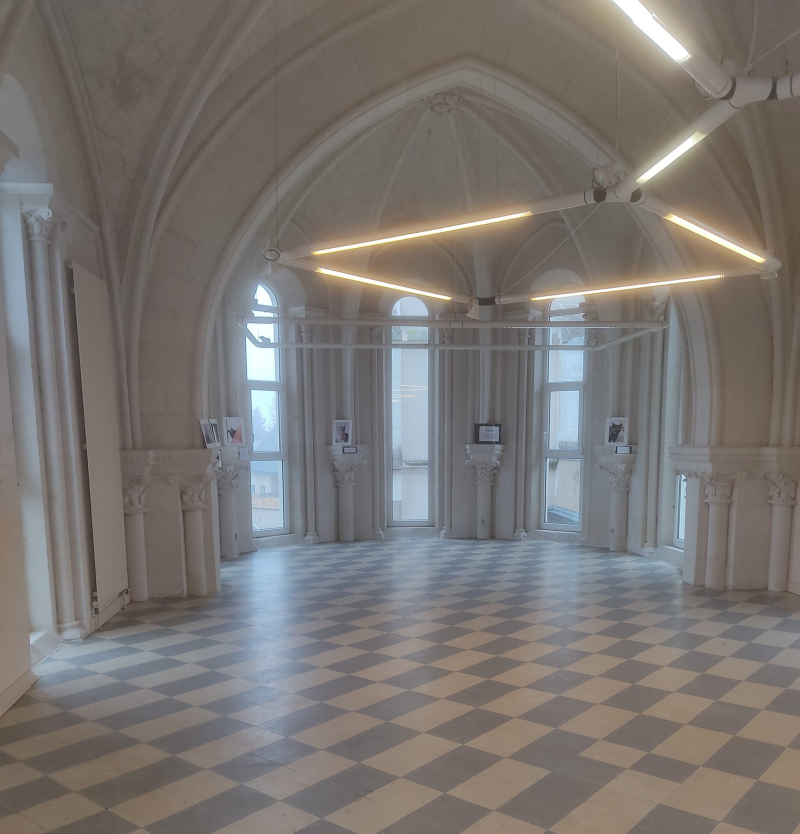 To close, a final picture of the frost in the wild clematis Old Man's Beard, which surrounds the wildflower meadow and strangles all the fruit trees, and much else besides.  The birds don't seem to be interested in the seed heads, but when the freezing fog does its thing, they are rather pretty.  Fingers crossed for some interesting footage from the trail camera next week!