It's broadly official now, with 40 days at over the seasonal average temperature, and pretty well no rainfall since early April - it's a heatwave and it's a drought.  There are water restrictions and even the farmers are mostly complying with them.  Lawns look parched unless overhung by willow trees, in which case they are lush and green and long.  Anywhere else and they are turning yellow or brown, apart from the weed flowers which happily rise above it all.  I think the drought conditions have really done for the bee orchids this year - there were so many rosettes in the winter and early spring, but not enough moisture to let them push up flower spikes.  Those that there are, seem a bit stunted to me too.
Temperatures have gone over 30ºC a fair number of times in the last two weeks, and while we can strip down to shorts and skimpy t-shirts, the cats can't.  They are doing a good effort of shedding fur whenever we touch them, and actually as desert animals probably cope a bit better than us in the heat, but they are seeking comfy places to sleep this out.
The plants are doing their best, with late evening watering for things in pots.  The butternut seedlings are ready to go out I think/hope.  They seem big enough to cope with being nibbled by any snails mad enough to break hibernation seals and come out and about.  The chilli seeds are coming up - given the weather, they might seem a bit late, but we are only 3 weeks into May and are actually on the early side.  The cheap rose I bought at Aldi shrugged off the greenfly, after judicious application of soapy water, and is now in flower, while the single red hot poker that I have nurtured in a pot, ready to plant elsewhere, is now out.  Another bit of colour, this time by the front door, comes from the pinks we got at Jacques Briant, and I finally potted on into something sensible a couple of weeks ago.
The trail camera has moved - after getting 500 photos and 500 short videos of moving grass seed heads, it was clearly time for a change.  Currently I am trying it at a sort of crossroads between the Orchard and the Meadow, and as there are no handy trees or fencing poles there, I have it on a piece of willow log, rescued from a work site.  I only managed to check it once before today, and have evidence that it has been investigated by the badger family!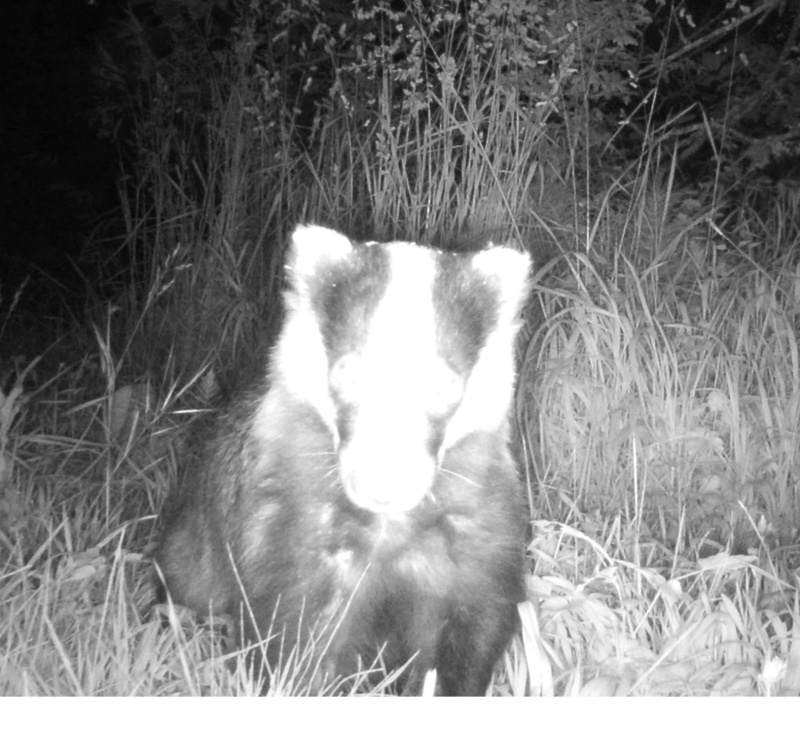 This week's blog is early.  The weather today is hot, so we aren't going to feed the cats and put water around until a bit later.  Tomorrow (Sunday) we are spending from midday or so, helping out on the beer and sandwich stand at the village trout fishing day.  Next week I hope there will be lots of jolly photos from the event, but I know I won't be in a fit condition to sit in front of a computer and write about it tomorrow evening.  I expect my ankles to be the size of footballs!