It has been mostly grey all week, so a very quiet time really - not least as it always takes ages to process all the information I gather on one of my work visits to the UK.  We had an afternoon and a chunk of a day that were fine, so I did manage to get laundry dry on the line.  There was a dramatic moonrise the day of the fine afternoon, which I managed to capture, sort of, as I came in from putting the chickens to bed.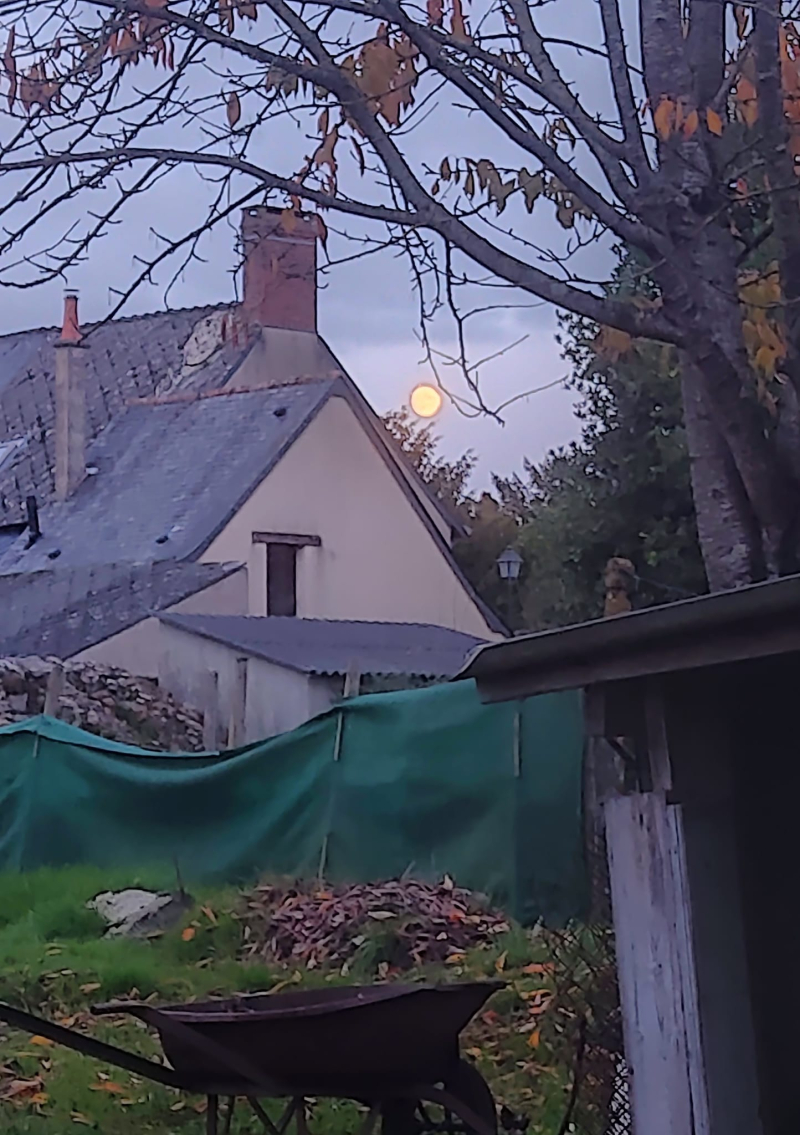 Last Thursday was the third Thursday in November so Beaujolais Nouveau day.  I bought us a bottle to share that night - as the critics have said, lots of cherry flavours this year, but as they haven't particularly said, it is fairly expensive and it is pretty silly.  Still that didn't stop us quaffing a couple of bottles when out with friends for dinner in Chinon on the Friday night.  The lady of the establishment was adamant that if we wanted to experience France, we really needed to try it (we did NOT go with her recommendation on eating tripe however), and bizarrely it was cheaper than the house red.  Finally I had a glass or two as we celebrated beer o'clock a day late at the local pub, but that is now it until Beaujolais Nouveau 2022!
Spooky, the Black Cat in the Country gave me a scare this week, with a gummy eye, so on Thursday it was a trip to the vet.  I have never had such an excellent feline car passenger!  No offensive smells with suitable sound effects before the smells, no "singing the song of his people", no chewing my fingers through the bars of the cat carrier - he thought it was alright.  OK so he tried to bite the vet once, but he does chew quite a lot, and he didn't appreciate having his temperature taken, but he was really very good.  He has reacted well to his antibiotic injection, so doesn't have a return visit tomorrow (phew).  It would be unfair to share his photo showing why he had to visit the vet, so here is a photo of Donald, who was clearly a pirate's parrot in a previous life!  He also drools a lot.
Today's visit in the wet to feed the Boys in the Country was very exciting.  Last week John had discussed with our neighbour about access to the communal well, and the guy offered to get a machine to help find it among all the vegetation.  We arrived to find him in full "Find and Rescue" mode.  He did take a bit of the hedges as well, and took the buddleia back to large size rather than the Godzilla monster size that it had become.  As we have rainwater recuperation tanks, we are unlikely to use the well, but as it is a shared resource, we are delighted that, with a bit more work, our little hamlet will be able to use it (assuming there is any water at the bottom of course).
Apologies for a dull resumé of the week - I'll try to do better next Sunday!